Melancholia is Lars Von Trier's con­flicted ode to German Romanticism, Wagner, Depression and life itself. It starts off with one of the most beau­ti­ful open­ings of any movie I've seen in recent times, with Wagner's pre­lude to Tristan and Isolde merg­ing with stun­ning, slow motion images. They look like paint­ings come to life, mov­ing incred­i­bly slowly, awak­en­ing to new shocks, new horrors.
The begin­ning pre­fig­ures the end beyond the usual tra­jec­tory of Hollywood films. It in fact gives away that end­ing in the first few min­utes. But we don't care. Because the jour­ney is every­thing, and we don't even mind that this is a cliché. Coming full cir­cle seems poetic and right, and cir­cles dom­i­nate the night and day skies. We don't feel cheated, even after an apocalypse.
The movie is told in two parts after the intro, match­ing planet with planet, sis­ter with sis­ter. Their col­li­sion cre­ates sub­tle, dark drama. Justine, played by Kirsten Dunst, has just got­ten mar­ried but is hours late for the recep­tion hosted by her sis­ter, Claire, played by Charlotte Gainsbourg. Claire lives with her hus­band, John (Kiefer Sutherland), in a cas­tle by the sea, filled with the trap­pings of great wealth on dis­play. We do not know the coun­try of ori­gin or the place, but every­one speaks English, and speaks of American things like mar­ket­ing, and the cas­tle is sit­u­ated on their eighteen-​​hole golf course.
(The film was shot pri­mar­ily in Sweden. It is a Swedish cas­tle, and it reminded me of the set­ting for Last Year in Marienbad, with its vanishing-​​point look across the gar­dens, the per­fect sym­me­try, the angles, the geom­e­try, the jux­ta­po­si­tions of humans and arti­fi­cial nature …)
Justine has acute depres­sion, and may well have an unman­age­ably manic side to her ill­ness. She takes out her manic side on peo­ple and horses, cuck­hold­ing her hus­band on their wed­ding night, and later whip­ping a horse who will not cross a bridge when they come to it. Kirsten Dunst's pefor­mance here is rev­e­la­tory, espe­cially when we look back upon her career. We are not ready for the look in her eyes, the ener­va­tion of face and body, the col­lapsed spirit, or the strange rec­ol­lec­tion of strength at the end when oth­ers fail around her. Her sec­tion of the story is swifter, more engag­ing, as is her per­son­al­ity. A rare feat, for a depressive.
Claire, on the other hand, is sup­posed to be the mature one, the col­lected and calm one, mar­ried, estab­lished, often car­ing for her dam­aged and unpre­dictable sis­ter. But her sec­tion of the film is strangely min­i­mal­ist in tex­ture and num­bers, shrink­ing down to just three char­ac­ters for most of it: Justine, Claire, and her son, Leo. It does not engage us in the way the first sec­tion does. But its min­i­mal­ist take is nec­es­sary for the task at hand. How do we live our last moments? What do we do? How do we make peace with the unstoppable?
Lars Von Trier has admit­ted to being a source for his char­ac­ter, Justine. His own bouts with severe depres­sion are expressed in scenes like the one in which Claire tries to help Justine into the bath­tub. Justine lacks the energy, the will, the strength to get her naked body into the tub, and Claire lacks the strength to get her over the rim. Von Trier's wife was Claire at times. In a sense, Von Trier, with this movie, makes it over that rim and becomes both Claire and Justine.
It's a beau­ti­ful, provoca­tive, slightly flawed masterpiece.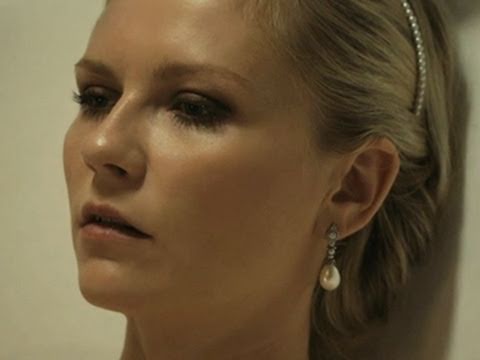 Melancholia