This 21-​​year-​​old singer has "it."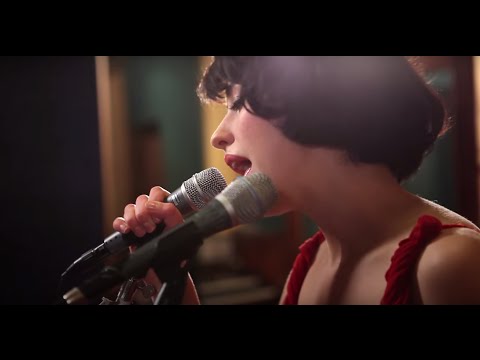 Plain Gold Ring
Explosively con­trolled jazz. Volcanic scat and soul. She bobs and weaves and falls vic­tim to the depths of her emo­tional pos­ses­sion, as all great artists do. But she rises from those depths and expresses the jour­ney upward and out­ward, with­out los­ing her courage or her conviction.
Aside from her won­der­ful voice, run­ning par­al­lel with it, she moves in inter­est­ing, idio­syn­cratic ways to her own song. A refresh­ing change from all too many pop singers who dance in cookie cut­ter ways, pushed into nar­row cor­po­rate forms to look like every other pop singer.  Joy Williams of The Civil Wars is sim­i­lar in her phys­i­cal originality.
*     *     *     *     *
Kimbra Johnson was born in New Zealand, grew up there, but now makes her home in Australia. She has been com­pared with singers like Nina Simone, Amy Winehouse and Bjork. Her first album, Vows, was released this past August.
An excerpt from an arti­cle in Australia's Daily Telegraph:
She began writ­ing songs at age 10, learnt gui­tar at 12 and by 14 she'd fin­ished sec­ond in the national school com­pe­ti­tion Rockquest.

"That was really encour­ag­ing as a kid," Kimbra says. "It seems a life­time ago, but it was a great head start."

A sin­gle, Simply on My Lips, was released in New Zealand in 2007.

UK music indus­try fig­ure Mark Richardson, now liv­ing in Melbourne and run­ning a man­age­ment com­pany, was tipped off about Kimbra.

He flew to New Zealand, where a show­case was hastily arranged in a wine bar.

"She was doing her folky, jazz-​​tinged acoustic gui­tar thing," Richardson says. "The first thing you noticed was the qual­ity of her voice and her con­fi­dence. She's hum­ble but she knows she wants to be special."

Richardson, who had worked with a young Jamiroquai in the UK, offered her a man­age­ment deal with a catch — move to Melbourne.

"Those are the things that make the dif­fer­ence," he says. "She was pre­pared to put the effort in."

Kimbra arrived in Melbourne before her 18th birth­day with no con­tacts but Richardson pay­ing her rent so she could focus on songwriting.

"I've never really had a job," she says. "I've only really ever done music."

Richardson had a game plan.

"I told her to get out, go see bands, go meet musi­cians, go get inte­grated," he says.

"And she's bril­liant at doing that and so dri­ven about what she wants to do.

"Jamiroquai was like that. They have that thing, they work harder than any­body else."