Casting Mind back on the day. Back into the deep, dark past of youth­ful folly, delu­sion and spon­ta­neous com­bus­tion. Back to a time when we just didn't care, or we cared far too much. When every­thing was brand spank­ing new and we drank and drank our­selves into unearned nos­tal­gia or oblivion.
Driving was every­thing. Driving was our escape and revenge, our home, some­thing we con­trolled out­side the law of adults. Their law wasn't our law when we drove and par­tied and lis­tened to Led Zeppelin, The Doors, Bruce Springsteen and the Beach Boys — what today some call Classic Rock. It wasn't clas­sic back then. It was just the music of our generation.
We had seen "American Graffiti" and we cruised the streets look­ing for our own ver­sion of West Coast Car Culture, know­ing we'd never find it. Knowing that our towns, bleed­ing into other towns, oper­ated under dif­fer­ent rules, three thou­sand miles away from the Valley.
When you're a teenager, you're schizoid, or you don't exist. Being schizoid keeps you sane. Being dazed and con­fused makes it pos­si­ble to work through the crash­ing hor­mones and the rest­less­ness and the rage. It makes it pos­si­ble to be vio­lently angry and wounded and crushed, all at the same time, to want to hold your girl­friend one moment and then ram­ble on the next. Haughty, proud, sud­denly free.
Hot, warm and cool, if not cold. Music was our sound­track. Did it shape our thoughts and feel­ings, or just echo them? Did it guide us and teach us and alter our way of look­ing at life, or just con­firm it all? At the time, we didn't think that way. We didn't ana­lyze. We just rocked through the dark­ness together, with friends and girl­friends and hoped-​​for conquests.
Hot. Led Zeppelin's music was dark, dan­ger­ous, raw and explo­sive. Based on the Blues, it exalted pain and anguish in a mus­cu­lar and aggres­sive way. Whole Lotta Love typ­i­fied what we lis­tened to in our Camaros, Cutlasses, Novas, Valiants and assorted ancient trucks:
Whole Lotta Love
Warm. The Beach Boys made you think of warm breezes, sun­shine and beau­ti­ful girls walk­ing on the strand, even if some­where in the back of your mind you felt conned. If the Beach Boys came up on the radio after the elec­tric fire of Led Zeppelin, we still didn't skip a beat. It didn't jolt us — that crazed segue. We flowed and then turned our atten­tion to the girl next to us in the car, or the one back home, or the one we lost and felt ten­der toward them all. We felt ten­der toward a myth­i­cal or real past that was the next best thing to a nos­tal­gia we hadn't earned yet. Did the Beach Boys secretly make us feel angelic for a sec­ond after the dev­il­ish ones had just fin­ished play­ing? Perhaps. Again, in the mid­dle of a teenaged moment, guz­zling beer after beer, your left shoul­der and your right shoul­der are really not the focus of attention.
Don't Worry Baby
Cool. Cold. Neurotic, as Paul Simon would say when he played this song live. I am a Rock was a call to go inside one­self, to steel one­self to the rav­ages of emo­tional win­ters. It was the anti-​​Donne song, in praise of islands out­side the stream. In praise of sto­icism and hard edges, with a sub­text plead­ing for an end to life on that island. A false bravado unlike most songs embraced by teenagers, because it ele­vated con­tem­pla­tion over phys­i­cal, hor­monal expres­sion. If this song fol­lowed Led Zeppelin and the Beach Boys, it could bring silence to those of us inside the car, and turn us toward our own walls and defenses.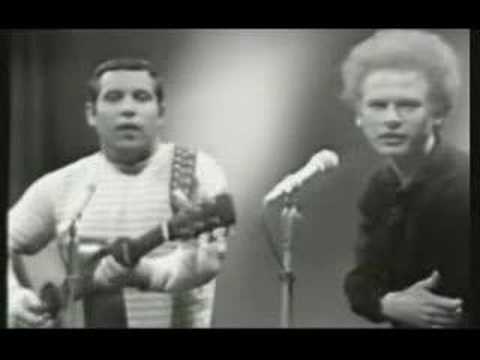 I am a Rock
*     *     *     *    *
Some say that genius is child­hood recap­tured. Zen teaches us to look at things with Beginner's Mind, Original Mind, liv­ing each moment in the moment, new, dawn­ing. But our teenage years are the time between child­hood and adult­hood. Where is the genius there? What is there that we should recapture?
Those mid­dle years may be the least con­ducive to Beginner's Mind. We rebel against our child­hood and rebel against our lack of power in the adult world.
It's likely that most High School stu­dents think of them­selves as adults, no longer chil­dren in any way. They may resent not hav­ing the respect and free­dom they think they see among their elders. Or, they just couldn't care less. Depending upon the mood and the atmos­phere, it may be all of the above. Those years are lost years in a sense. Waiting to become some­thing else, to be some­where else.
I feel ten­der toward those mid­dle days. I feel ten­der toward the music of those mid­dle years.